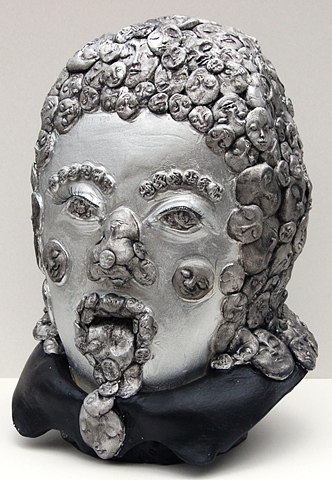 I have been working clay for many years and it never ceases to amaze me the endless ways clay can be manipulated. Clay has an inherent mysterious quality that offers unforeseen potential to be anything. For years my focus was strictly on utilitarian pieces, but the last few years have led me to experiment more with the less obvious intended functionality and more focus on aesthetically abstract pieces. There is not a set procedure for utilizing clay in an art piece; instead the challenge in itself is what inspires me to create.
All of my pieces explore variations of my previous work as I create in series, evaluating each outcome to identify more possibilities. Inspiration for individual series is inspired, whether consciously or unconsciously, by my life experiences and influences. My approach has suited me well and has allowed my experience with clay to constantly evolve. My fascination never waivers as I have learned over the years that working with clay offers infinite opportunities for creativity and inventiveness. With each piece my skill level and personal aesthetics undergo a parallel growth.
I have branched out to experiment with different mediums to include more two-dimensional work. While my first love is clay, you will see my three-dimensional influence in many of the paintings. I am always searching for new ways to incorporate texture and surface design.